Sustainable Water Solutions
WABAG's water saga spans over ninety years, making it an industry leader today in the field of total water management. With presence in four continents, WABAG is a pure-play water technology multinational offering a wide range of solutions focused on conservation, optimisation, recycling and reuse of resources, directed at addressing water challenges across the world.
With strong Research & Development and a passion for innovation, WABAG has honed its skills in handling EPC projects of any scale across any sector or region. WABAG has three dedicated R&D centers in Switzerland, Austria, and India, and holds over one hundred patents.
The company's key competences, developed over 90 years of plant-building experience, lie in the turnkey execution and operation of water and wastewater treatment plants for both the municipal and industrial sectors. WABAG has a successful track record of executing over 6000 municipal and industrial projects globally with quality and commitment to timely delivery.
3 Dedicated
R&D Centers

100+
patents

6000+ Municipal
& Industrial
projects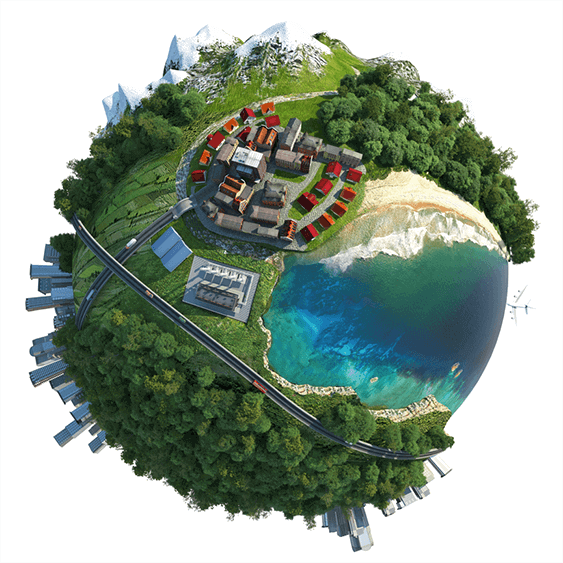 Our Philosophy
Our objective is to provide a growing number of people with access to clean drinking water, as well as to secure environmentally-compatible disposal of municipal and industrial wastewater. We are committed to contributing in a sustainable manner to environmental protection and an enhanced quality of life. This task drives us in the development of new technologies and the ongoing optimisation of existing processes with a focus on emerging markets.
The success of our efforts helps secure one of Earth's greatest treasures, the very basis of life — Water.
Our Vision
Providing sustainable solutions for a better life
WABAG shall be a professionally-managed Indian multinational having market leadership in emerging markets and significant position in the global market, both in the EPC and service sector of the water business.
WABAG shall encourage and practise a culture of caring, trust and continuous learning while meeting expectations of employees, stakeholders and society.
WABAGites shall be an innovative entrepreneurial and empowered team committed to total customer satisfaction and value creation.
Global Presence
The WABAG Group with its international presence in India, South East Asia, Middle East, Africa, Europe and Latin America has a workforce of over 2,000 water professionals and is represented via companies and offices in 20+ countries.
Our global clientele comprises an ideal mix of municipal as well as industrial clients who have reposed their faith in our competency, both technical as well as commercial.
With a history dating back more than ninety years, the WABAG Group represents a globally present, locally driven business organisation in the field of water technology.
2000 workforce
in Vienna
& Chennai

Companies &
Offices in 25
countries

WABAG history
dating back more
than 90 years
Awards & Accolades
IDA World Congress Awards 2019
WABAG received the "Most Innovative Company" award at the International Desalination Association (IDA) World Congress 2019, in Dubai, for developing sustainable water infrastructure globally powered by innovation over 9 decades.
GWI – World's top 50 private water operators
WABAG ranked 6th globally among the "World's top 50 private water operators" by Global Water Intelligence, for ensuring safe drinking water and clean environment to over 48 million people.
CSR Journal Excellence Awards
WABAG received the CSR Journal Excellence Awards for its Health and Hygiene project at Viralipatti village (Tamilnadu) on 22nd July 2019 at New Delhi. WABAG was the Second Runner Up under the "Health and Hygiene" category.
Dun & Bradstreet Infra Award 2019
WABAG is honoured with the Dun & Bradstreet Infra Award 2019 for the 140 MLD Dinapur Waste Water Treatment Plant (WWTP), Varanasi, which was inaugurated by the Hon'ble PM of India during November 2018. This is the first and largest WWTP executed under the Namami Gange Programme.
Global Water Awards 2019
WABAG received two prestigious global laurels at the Global Water Summit 2019 held at London. Our Madinat Salman WWTP received the Distinction Award under "Wastewater Project of the Year" while our IOCL Paradip ETP received the Highly Commended Award under "Industrial Water Project of the Year".
Water Digest Water Awards 2019
In recognition of our sustainability initiatives, Water Digest presented WABAG with two prestigious awards at the Water Digest Water Awards 2018-19 held on 28th February 2019 at New Delhi, India.
- BEST WATER TREATMENT PROJECT – INDUSTRIAL
- EXCELLENCE AWARDS FOR BEST CSR IN WATER SECTOR
41st EEPC India Southern Regional Awards
EEPC India presented the Star Performer Award to WABAG under Project Exports category for the year 2016 - 17 at the 41st EEPC India Southern Regional Awards held on 28th Dec 2018. The award was presented to Team WABAG by His Excellency Mr Banwarilal Purohit, Hon`ble Governor of Tamil Nadu.
ASSOCHAM – Water Management Excellence Awards 2018
ASSOCHAM presented WABAG, the Water Management Excellence Award for "Outstanding Contribution in Water Efficiency & Conservation", for its comprehensive water management system for IOCL - Paradip, Odisha.
HR Distinction Award 2018
WABAG has received 3 prestigious awards from HR Association of India at the HR Distinction Award 2018, New Delhi.
- Best Rewards & Recognition Program
- Most Effective CSR Strategy
- Most innovative L&D Program
Water Digest Water Awards 2018
WABAG has always lived up to the promise of sustainability within fence and beyond fence. In recognition of its performance "Water Digest" honoured WABAG with two prestigious awards:
- BEST WATER TREATMENT PROJECT - INDUSTRIAL
- EXCELLENCE AWARD FOR BEST CSR IN WATER SECTOR.
Chemtech Leadership & Excellence Award 2017
CHEMTECH Foundation Award for Business Leader of the Year for Water Management (Corporate)
Water Digest Award 2017
Received on World Water Day for Best Water Technology of the Year
Water Digest Award 2017
Received on World Water Day for Excellence in Corporate Social Responsibility.
ASEAN Award 2017
Received the Inaugural ASEAN - India Achievement & Excellence Award for significant contribution to building sustainable water infrastructure and supporting economic development in the region
GWI – Top 10 Global Water Companies
Ranked among the Top 10 Global Water Companies by GWI for serving over 20 million people globally
Dun & Bradstreet Infra Award 2017
Presented to VA Tech WABAG by Shri Nitin Gadkari for Karnataka's first Wastewater Treatment Plant to produce power from biogas in K&C Valley, Bengaluru
BT – CSR Excellence Award 2016
Presented by Shri Anant Geete, Union Minister of Heavy Industries and Public Enterprises, at New Delhi
GWI Awards 2016
Water company of the year Industrial water project of the year – Dahej effluent treatment plant, India
TiE SWACHH BHARAT – CORPORATE Award 2016
Award under the Swachh Bharat (Corporate Category) from TIE Chennai
Dun & Bradstreet Infra Award 2016
Best Infra Project Award for 100 MLD Nemmeli SWRO Desalination Plant
IEI Industry Excellence Award
At 31st Indian Engineering Congress at Kolkata for Engineering Services & Consultancy from Institution of Engineers (India)
Global Water Award 2015
Industrial Water Project of the Year – Ujams Industrial Water Reclamation Plant
Environmental Risk Management Company Award 2013
Received from ICICI Lombard for Kodungaiyur STP Project at Mumbai
Global Water Award 2014
Distinction Award for Water Company of the Year to Mr Rajiv Mittal at the Global Water Summit by Ellen Johnson Sirleaf, President of Liberia and Nobel Laureate
Export Excellence Award
For 2012 – 2013 from EEPC India
Ernst & Young Entrepreneur Award
Rajiv Mittal was felicitated and honored by Salman Khurshid, Hon'ble Minister for Water Resources at Delhi
National Award for Excellence
In Water Management 2011 from CII, presented by Minister for Agriculture & WR, Govt. of Rajasthan
Global Water Award 2011
From GWI 2011 - Presented at Berlin by Kofi Annan, former Secretary General of the United Nations
AVCJ Award
Best Exit Company of the Year from AVCJ, Hong Kong
Water Digest Award
Distinguished Water Company for the year 2009-2010 — presented at New Delhi
Frost & Sullivan Award
Best Company of the Year 2010 under Water and Waste Water Segment — presented at Mumbai
Frost & Sullivan Award
Environment Excellence Award for Market Strategy Leadership presented at Mumbai